Tribology
MFA, KFKI Campus, Building 26.
Contact: Katalin Balázsi, balazsi@mfa.kfki.hu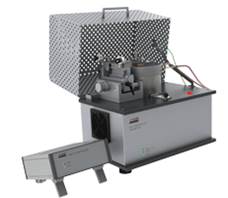 Tribometers determine the magnitude of friction and wear as two surfaces rub together. In one measurement method a flat or a spherical probe is placed on the test sample and loaded with a precisely known weight.The sample is either rotating or recipricating in a linear track. The resulting frictional forces acting between the probe and the sample are measured. Additionally, the wear for both the sample and probe is calculated from the volume of the material lost during the term of the test. This simple method facilitates the determination and study of friction and wear behavior of almost every solid material combination, with varying time, contact pressure, velocity, temperature, humidity, lubricants, etc.
Strengths:
– High resolution obtained with unique frictional force sensor design
– Easy and automated calibration procedures
– High-precision feedback controlled motor
– Linear and Rotating sample displacement
– Environmental configuration (heating and vacuum)
– Automatic switch off at friction coefficient threshold or total number of cycles Tests compliant to ASTM G99, G133 & DIN 50324
– Tests in liquids, controlled humidity or inert gases within plexiglas enclosure

High Temperature Tribometer (up to 1000 °C):
The analysis of friction and wear properties of materials at elevated temperatures has become increasingly important, especially for the development and quality control of combustion engine and power plant constituent parts. To meet the resulting need for quantitative data at elevated thermal conditions CSM Instruments has extended its range of pin-on-disk Tribometers with a powerful high-temperature version which can accurately simulate in-service conditions.

Features:
– Precisely calibrated friction and wear measurements at elevated temperatures up to 1000 °C
– Efficient heating/cooling system to accurately maintain desired test temperature
– High thermal stability
– Automatic shut-off at selected track length or friction coefficient threshold